Riding Lessons
---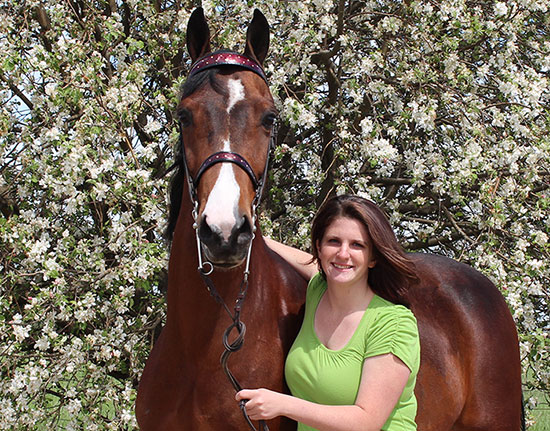 No experience
is required to begin our program, just a love of horses and a willingness to learn.
We teach children as young as 5 years old, and there is no upper age limit for adults.
Introducing Assistant Trainer and Riding Instructor Brittnay Stewart!
Brittnay was voted as a excellent Instructor of Meredith Manor where she graduated with honors in the Equine program!!
Individual needs are met so you can learn at your own pace
Small group, semi-private or private lessons
Horses and equipment supplied, or ride your own horse


Beginning students are taught basic horse care and grooming, how to saddle the horse, and "steering" around orange cones.

Kind, gentle horses of all sizes are available. Horses appropriate for beginners to those requiring an experienced rider are part of our "horse family". Riders are carefully matched with horses to assure a pleasant and rewarding riding experience for both horse and rider. Young and beginning riders usually start with group lessons.

In addition to learning basic horsemanship and riding skills, many adults choose to go on to our Show Rider program.

Lesson Program
Small group lessons (4 or 5 riders) $50/hr
English or Western, Saturday or Sunday
Semi-private lesson on school or owned horse (2 or 3 riders) $65/hr
English or Western, Saturday or Sunday
Private 1-hr lesson $85/hr
Beginner / walk-trot, ages 6 and under $65/half hr
English or Western, Saturday or Sunday

NEW! Natural Horsemanship
For riders of any age. Learn how horses think! Groom, saddle, ride. One and a half hour comprehensive lesson, ending with a short pleasure ride in our 4-acre pasture. $100
Cancellation Policy
ALL RIDERS MUST NOTIFY THE STABLE OFFICE (505-898-1810) DURING NORMAL BUSINESS HOURS, BETWEEN 8AM-5PM, TWO DAYS BEFORE THE SCHEDULED APPOINTMENT OR BE CHARGED THE FULL AMOUNT.

Liz Sanchez Stables - Non-Liability - PDF
For more information on lessons and fees click here.

Disciplines taught:
Hunt seat
Saddle seat
Driving
Trail
Western
Our goal is to teach you to ride, then let you make your own choices regarding your favorite discipline and whether or not you want to advance to our Show program.
Go to our
Training
page for further information.